Jack and the Beanstalk
Written and Directed by Susie Mckenna
Susie created the legendary Hackney Empire pantos and is now bringing her brand of joyful and diverse pantomimes to the Broadway.
"Susie McKenna proves once again why she is the undisputed queen of London panto" Evening Standard.
"Spectacle, story and song, in harmony with knockabout gags for the kids and self-aware wit for the grown-ups." The Times
"Smash hit pantomime" **** What's On Stage
Get ready for London's newest and most GIANTGANTIC pantomime.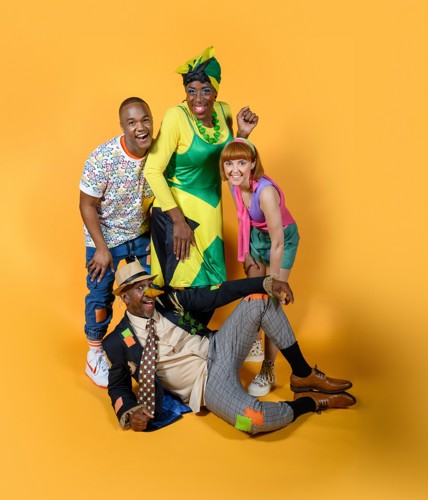 Jack, his Mum and their cow Caroline live in the Kingdom of Lewishfarm and life is tough; the people are poorer, and the rich are getting richer.
Everyone is at the mercy of Giant Blunderbore and his evil cockroach henchman Boris (who, by the way, secretly wants to destroy humanity).
Will Jack fulfil his destiny? Will Caroline the Cow become a Tik Tok star? Will Jack's Mum find love in the audience?
This is truly a pantomime for south London, with a kickin' band, a funky Giant, magic beans, slapstick routines, laughs and silliness galore and plenty of boos, cheers and soulful songs you know and love to keep you singing all the way through!
The cast have been announced as Derek Elroy (Dame Dolores Trott), Wayne Rollins (Scarecrow) with Durone Stokes as Jack, Evelyn Hoskins as SJ, Siobhan Athwal as Queen Bee and Ben Fox as Boris the Cockroach!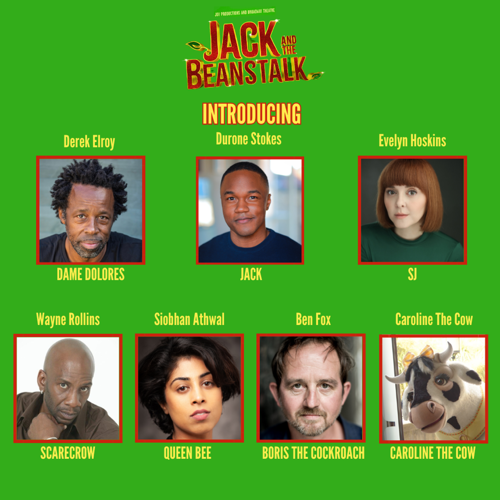 Schools Performances
Please contact the box office if you would like to book a school group for one of the performances listed below.
Email: boxoffice@broadwaytheatre.org.uk
Telephone: 0208 690 0002 Tuesday-Friday 11am-4pm
The cost for school groups is £10 per head until Friday 21 July, and then will rise to £12.50. For every 10 students, one teacher goes free and no booking fees will be charged to school groups.
If you have any special needs or questions, please contact the box office on the email or phone number above and we'll be happy to help. If the shows listed below are sold out or don't work for your group, we may be able to accommodate you at a different performance. 
(Please note: these performances are open to the public as well as schools.)
Wednesday 13 December - 10.30am
Wednesday 13 December - 2.30pm
Thursday 14 December - 12.30pm
Friday 15 December - 1.30pm
Tuesday 19 December - 10.30am
Tuesday 19 December - 2.30pm
Wednesday 20 December - 1.30pm
If you are interested in free Preparing for Panto Assemblies, participation in art competitions, free schools packs including lesson plans, or other engagement activities, please contact Joy Productions' Outreach Coordinator, Helen Foster, at hjfoster@hotmail.co.uk. 
JOY PRODUCTIONS are delighted to be bringing Panto back to the Broadway Theatre. After all, we were created to do what our name says: through panto to spread Joy to the children, families and communities of Lewisham and South East London.
Olivier Award-Winning producers Julie Clare (a Lewisham resident for over 20 years) and Chuchu Nwagu are working with the legendary Susie McKenna who led the pantomimes at Hackney Empire for 22 years. Our mission is to create quality pantomimes that both honour tradition and are modern, inclusive, and relevant to the communities we serve. Just as importantly, team Joy will be creating employment opportunities within the borough and, by partnering with local educational institutions, are aiming to build a pipeline for working class and global majority talent to enter the creative industries.